Technically speaking in clear terms, it isn't possible to directly change an HDMI output to input due to fact that the circuitry is designed that way but with the help of external adapters it can be possible and we can perform this task easily. External adapters can easily take HDMI input from an external device, and then can project it on another device via a USB port or any other port.
Let's define and discuss some basic terminologies to have a clear understanding of this topic before we present an explanation on how to change HDMI output to the input on a laptop.
The abbreviation of HDMI is that the High Definition Media Interface. To connect anything to your television, it's likely that you're going to need HDMI cables. This cable creates a link and connects the screens of laptops and tv. This method enables us to watch laptop videos on the larger screen of a TV.
HDMI is used to transmit high-quality videos easily. It is a high-quality audio-visual interface. It is very necessary to have a connection between two computers and other devices. The connection is created by an interface called a Port.
Technically, ports are the interfaces that help us connect one computer with another or peripherals devices with a computer or laptop with convenience. There are several types of ports. Display Port (DP), ESata PS/2, Digital Visual Interface (DVI), Serial Port, SCDI Port.
HDMI OUTPUT
HDMI OUTPUT helps us to send an output signal to TV or laptop, this port is helpful to share audio or video to monitor, TV, other laptop, or other devices. A standard HDMI port consists of a total set of 19 pins to perform its task properly. In, 2002 0.1 version of HDMI was used but it is updated and now 2 .1 version is being used that was updated in the year 2017.
Version of HDMI
There are several versions of HDMI, although they are quite similar in design and look the same, but they are different in terms of quality and function. With ever-increasing development in technology, the needs and sources of transmission of audios and videos for better quality have changed drastically and to fulfill the need, HDMI versions are updated with the passage of time to give the user the best possible result with satisfaction.
TYPES OF HDMI CABLE
HDMI cables come in two types that are available worldwide. The cables are named according to their quality and function.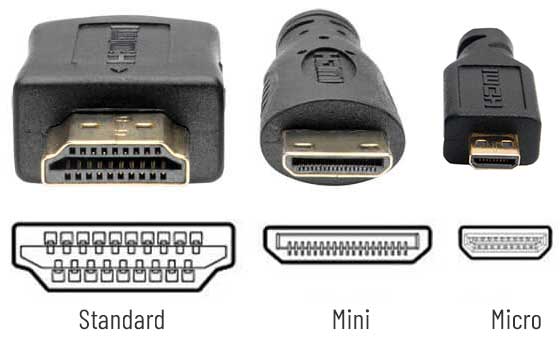 STANDARD CABLES Category 1 HDMI cables
They are also used for standard cables. They perform at a refresh rate of 75 MHZ. This cable provides 1080i signals.
HIGH-SPEED CABLES
This type of cable is more powerful as compared to the standard cable system. They are also called Category 2 HDMI cables and they are used for high-speed cables. Data such as audio and video are sent more quickly and efficiently as compared to standard cables. They perform at a refresh rate of 340 MHZ.
How to use HDMI (High-Definition Multimedia Interface)
Here are the steps that will help you easily connect a laptop with TV using HDMI.
First turn on your TV and laptop then Put HDMI cable on both laptops and TV. After that Press the input option on your TV remote and select the HDMI.
After selecting the HDMI option you will be able to see the same screen on your TV as of your laptop. Now you can transmit any video or audio from your laptop to TV and enjoy it.
HOW to CHANGE HDMI OUTPUT TO INPUT ON A LAPTOP?
The HDMI port on the laptop is basically for output. Now the question arises that the way to change HDMI output to the input on a laptop? Well, there is no need to be worried about this question there are so many tricks and options for this.
Various products are available to carry out this task these products are generally known as external adapters such as display port
Display Port :
This is a great option and easy to use. It has an HDMI connector on one side and interfaces on another side. This adapter can help in the conversion of HDMI output into an input. Although this type of connection does require a cable.
Furthermore, if these products are not your choice and don't want to spend money on them, than you can easily opt-out for another best solution and that solution is software, yes you can install a different software that can assist you such as Mimecast, space desk and home streaming.
With the help of software, you can change HDMI output to the input on a laptop without requiring any cable With Wirecast installed on both devices you can easily do HDMI streaming. this software can transmit and receive the data. Just make sure both devices have the same Wi-Fi connection at the same speed.
This feature is useful for smartphones as well.
Why use HDMI?
Following are advantages of HDMI
HDMI has several advantages that made life easy, it has the capability to provide fast transmission of data such as audio and video without compressing it with vibrant colors and high-quality resolution. As compression can result in a huge drop in data quality. Furthermore, with the help of HDMI, there is no need for multiple connections because HDMI can transmit data in a single cable for audio and video. HDMI also provides a colorful and vibrant picture that was an impossible task in previous ways of video communication. It can support various adapters and can easily connect with ports, and interfaces.
HIGH-QUALITY RESOLUTION:
HDMI can transmit data with no loss and with the highest quality video at low glaze scenes at high resolutions. So, its video quality is better instead of their correlative analogs. Higher distinctions such as text are showed crispy and clear.
Vibrant Colors
HDMI provides 10 bit,12 bit, and 16-bit color deepness which can give more than 1 billion colors in vibrant details.
Consumer Electronics Control (CEC)
CES or Consumer Electronics Control is a type of communication network that provides devices linked through HDMI to have a conversation with one another. Some video experts can also drop power-off signals to switch off many displays connected to it.
No Contraction
As HP signals are not dropped while the transfer of data, there is almost no data degeneracy in signal quality.
Manage Multiple Audio and Video Setup
Standard stereo, multi-channel surround sound system, like 720p, 1080i, 1080p, Pal these all are supported by HDMI. As HDMI can support multiple audio and video setup