Are you planning to try screencasting and get moving with the emerging trend? No, then being an adept user, are you searching for new ways for enhancing your experiences? Get ready to know some proficient ways to know how to record video on a laptop for windows 7?
We researched and collected some handy ways to let you find the ideal fit. Undoubtedly, it will allow you to meet your particular needs and requirements. Recording the screen with the inbuilt screen recorder is a piece of cake for everyone. Now, the gaming world and YouTubers looked for applications to help them in their journey.
Let us begin to explore the applications along with the simple screen recorder to help you out. But before that, let us know some of the valuable benefits of screen recording. Unfortunately, many people assume the screen recording benefits to be one-dimensional.
Benefits of Screen Recording
The ability to save your content
Hands down! You got screen recording as the best way to record any content on your screen. You will find it has no confinement to software and the applications only. But it will let you capture the video calls, online streaming videos, and whatnot. Save up any helpful video, conference calls, lectures, and soundtracks, whatever you wish to or find useful for recording from your screen.
An easy way for explaining problems and providing solutions
Anything digital is no more a problem with screen recording. It is a valuable way for giving solutions and explaining the difficulties connecting to digital issues. You can record the video of your encountered problem and share it with others.
That's not all!
Conversely, you can provide and share a solution for the problems faced by others. Overall, it turns to be a practical problem-solving strategy in numerous ways for the users. Notably, you will find it easier to avail of the technical assistance directly related to your issue. Moreover, you can help others by uploading it on YouTube or sharing it on social media or tech support forums.
Creation of diversified content
Screen recording is the most desirable way of creating content. It got the perfect ability to record video footage of your laptop or computer screens. Therefore, you got no other competent and stellar screen recording option and video content creation through digital apps.
Do you know the range of video content types you can create with the screen recording?
You got enough reasons to look in for how to record video on a laptop for windows 7. Either choose the windows screen recorder or give any app a whirl. You will find it indispensable once you experience and witness its benefits yourself.
Let us dive into the ways of recording video on a laptop for windows 7.
Our list will provide you with every possible form of creating videos by recording.
Reminder: Every app has the unlimited time of recording, editing options like cut and paste, and video frames to be adjustable.
Ways To Record Video On Laptop For Windows 7
1. How to record screen in Windows 7 without any software
Yes, you read it right! You can record the screen with the webcam or the laptop camera. But hold on! Windows 7 does not have a built-in camera.
Record video with Laptop Camera
You have to search in your start menu. There will be any webcam utility, which your computer had already installed into it. Just click the start menu and look for the camera or webcam. There must be a utility like that and save up from installation.
To be more precise, you have to download the software supporting the camera or install it from the laptop support CD. Run the CD and follow the choices. Just click your camera icon, and setup will begin to let your camera work. Once set, you can click the recording option on your camera to make videos.
The camera also has a pro feature to give you maximum control over many features like exposure and brightness. However, if your laptop camera is not of good quality or equipped with your laptop, choose the webcam for video recording.
How to record video on Windows 7 with a webcam
It is the other way of how to record video on a laptop, windows 7, for free. You got the liberty of moving your camera around and walk to record your video the way you want. However, you need to install a webcam setup with the specifications.
Firstly, plug in your webcam to your laptop with the USB port. Install the webcam from the installation CD. as soon the icon appears on your screen desktop, click it. Allow for the camera accessibility. You should check the position of the camera when it opens. Choose videos from the screen options at the bottom. Here you go recording your clip. Don't forget to save it!
There is something more into it! Windows 7 support many applications for recording videos. They are free, or you can buy them.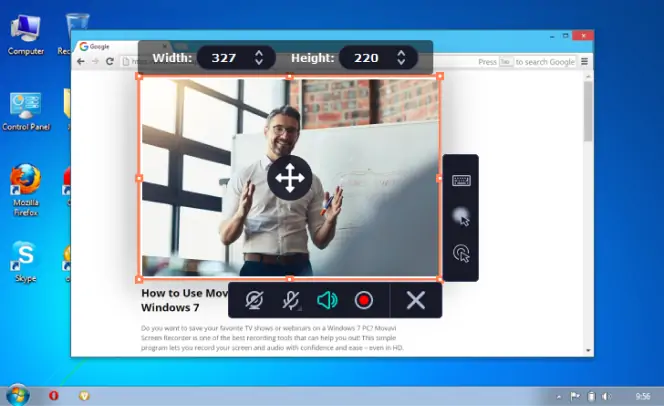 2. Online video recorders
The Linux users can become happy with the online video recorders available on the browsers. There is much software available online, like the apowersoft screen recorder. You can easily record audio and videos simultaneously. Then add up in your dropbox or drive.
You can be trouble-free from the fear of disclosed privacy. Start recording after customizing the region and the customization mode. Experience the unlimited recording and quick processing of the videos regardless of their durations.
3. Bandicam
This robust application for screen recording is a preferable choice for YouTubers. It offers tremendous support for gameplay and all the points of capturing on-screen. No more compromise on video quality as it uses a high compression ratio. Capturing the 120 frames per second, ultra-high 4K videos is not a tedious task.
The recording capability of Bandicam's device let it stand ahead of the crowd. You can effortlessly record Xbox, IPTV, Apple TV, Play Station, smartphone, and HDTV's videos with the installation of a capture card separately. Start recording anything you wish to with Bandicam.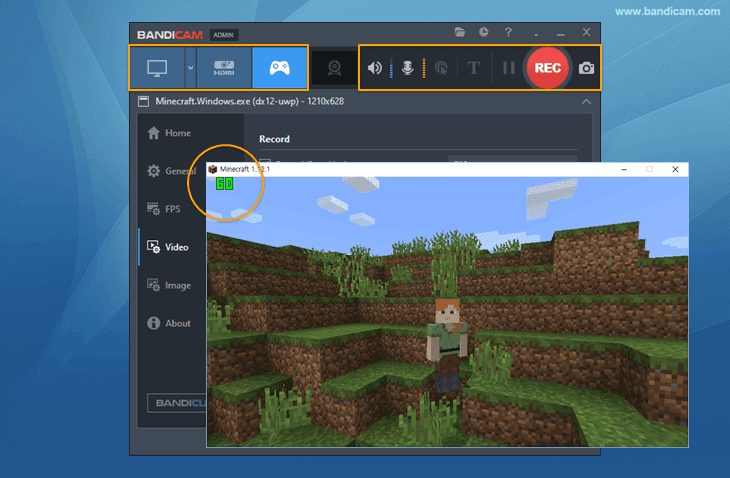 4. Open Broadcaster Software
Are you in search of live streaming to Twitch, Mixer, or YouTube like a Pro? Here you go with the best free software for screen recording. Experience the streaming and recording both at high definition, regardless of the video lengths. You got the choice of recording part of the screen or the entire screen. Control your recording with the customizable hotkeys and produce finely recorded sound videos with the audio mixer.
There is something more into it! It has the live streaming feature that marks its excellence over primary screen recorders of windows by default. Live streaming on Twitch and YouTube Gaming lets you save your projects. Moreover, you can convert them (footages) into the format-FLV.
5. Cam Studio
Occasional or one-time users find Cam Studio to be a good choice. Their fewer needs of editing let them enjoy the open-source and lightweight software for screen recording. It creates the AVI formats videos that you can convert in SWF format.
You may find it compact, but you will wish for more appealing animated and interactive features to mark its development. Furthermore, technical support should increase as well.
6. Camtasia
Are you willing to add a professional touch to your captured videos? Tech Smith came up with Camtasia to ease video recording with the professional touch. Feel free to record videos and audios from iOS devices and desktop. Moreover, infuse your recordings with the personal element by capturing your webcams.
The tool's sidebar has the effect of click and drags over the stock images collection. Within seconds, you can enjoy creating segments (intro and outro)by adding in the recordings. Improve the flow of the video by using transitions between the scenes and slides. Add in pan animations, zoom in and zoom out to your footage. Furthermore, record or import the powerpoint pages directly and make them more catchy with the titles and recordings.
7. Movavi Screen Capture
You will love this user-friendly screen capturing software. It is a stellar way of recording the screens, capturing audio and webcams, save the recordings as GIFs and videos. You can even take the screenshot.
Saving videos in high definition (HD) is a cherry on top. It provides support for multiple formats like MOV, AVI, MKV, and MP4. Feel free to upload them on Youtube or Google Drive or share them with others through social media.
The software lets you edit the screenshots taken. Furthermore, you can avail yourself of the opportunity if scheduled recording as well. However, the trial version has the limit of recordings to 5 minutes only.
Final Verdict
In a nutshell, you know how to record video on laptop for windows 7. Choose any of the ways mentioned above for screen recording. These applications, whether paid or free, are love. Recording your screen will not be an arduous task anymore. Choose the application or way wisely to match your needs.